Vineet Jain
Consequently, a third loan is taken from the market which is used to pay the second loan and so on.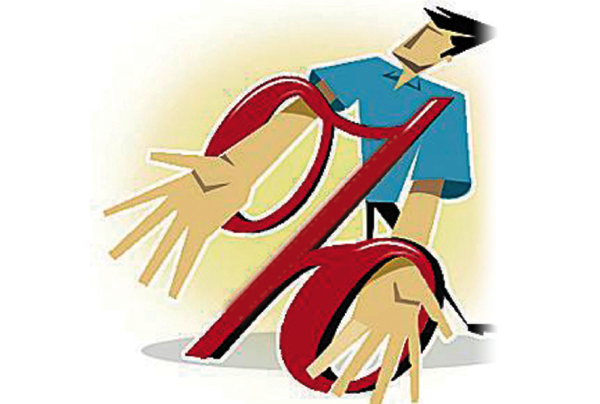 Feeling trapped in the vicious circle of borrowing and repayment? Cannot think of ways to come out of the loan trap? Once you are caught in this trap, it sure is a tedious task to get out of it easily. Typically, what leads to this quandary is when a customer takes one loan. Thereafter, the income source from where this loan must be repaid gets dried up. Then, the customer takes another loan from the market, which is used to repay the first loan.
Consequently, a third loan is taken from the market which is used to pay the second loan and so on. Thus, he continues to remain in debt and this leads to a situation, which is referred to as the 'Loan Trap'. It is wiser to know that such a situation could arise and take steps to manage the repercussions, if at all one gets caught in it.
So, if at any point in time, one is found caught in a loan trap, he/she could consider taking the following steps:
Cut down on useless expenditure: If the situation is such that income revival is going to take some time, the immediate need is to cut down on wasteful personal and household expenditure. Many people hesitate to do it, thinking that this is a small step. But big things happen when many small steps are taken together. Think of all those extras – movies, restaurants, clubs etc. – which can be cut down on but won't affect the core of your life. Sitting and writing your expenses down would help you come up with a list and which in all likelihood could be substantial. This can surely help in bringing down your expenses by 5 to 10% in a month.
Contact your lenders: Contact your lenders to discuss getting rid of your unsecured loansthrough a process called debt settlement. This option allows you to pay off your unsecured loan for less than the full balance. This is only if the account is seriously past due and the lender feels you are on the verge of default.
Build your credit score: The best and easy way to build your score is to ensure that your loan repayments and credit card repayments are always in time. Use your credit card in a very limited manner. For any expense that you incur, pay in cash and limit the use of your credit card.
Engage in other activities like freelancing: Look for ways to earn some extra money. Take up freelance work according to your interests. It can be photography, writing, playing the guitar, etc. This will not only help you to make some extra bucks but will also give you time to engage in activities of your choice.
Don't let any form of depression eat you: It is important to keep oneself motivated and have a positive outlook towards the future. Hoping for a better future and taking all possible steps to move towards it, is the key. It might test your patience in the interim period, but would surely benefit you in the long term. So, keep your chin up and look at things positively
Mumbai: RBI's move to lower loan-to-value ratios and risk weights for individual housing loans can help bring down interest rates on home loans by another 25-30 basis points over the next few months, says a report.
"We expect interest rate on home loans to come down by another 25-30 bps over the next few months, triggered by RBI's move to lower risk weights on select home loans (up to Rs 75 lakh) where borrowers are willing to put in more money and thus lower the loan-to-value (LTV) ratio," the report by rating agency Crisil said.
On Thursday, the banking regulator said in the case of 'individual housing loans' falling under the category of up to Rs 30 lakh, the LTV ratio would be up to 90 per cent. Earlier, the facility was available only in cases where the cost was up to Rs 20 lakh.
For properties above Rs 30 lakh and up to Rs 75 lakh, the LTV will be up to 80 per cent and those above Rs 75 lakh, it will be 75 per cent.
A slew of banks, including State Bank of India, PNB, IDBI Bank and Bank of Baroda, Bank of India, Axis Bank, ICICI Bank, have lowered their base rates after RBI on September 29 reduced its repo rate by a hefty 50 bps to 6.75 per cent.
RBI has lowered risk weights on housing loans of up to Rs 75 lakh from 50 per cent to 35 per cent in cases where the borrower puts in at least- 20 per cent of the value of the home as own equity for loans up to Rs 30 lakh; and, 25 per cent of the value of the home as own equity for loans between Rs 30 lakh and Rs 75 lakh.
The report said, theoretically, lower risk weights should significantly boost the return on equity (RoE) of the mortgage portfolio of banks.
"However, with competition in home loans continuously intensifying and the interest-rate cycle turning south, we believe this is unlikely, and banks will have to pass on the benefit to borrowers. Therefore, any boost to RoE would be marginal."
According to the report, around 80 per cent of home loan borrowers and 70 per cent of home loans (by value) would meet the criteria for lower risk weights set by the RBI and thereby benefit from the change in regulation.
Home loan borrowers in smaller cities are likely to be the biggest gainers from the RBI move due to limited supply at affordable price points in the larger cities, it said.
Story first published on: October 09, 2015 21:19 (IST)
FROM THE WEB
Shares in banking and housing finance companies outperformed broader markets on Friday after the Reserve Bank announced a reduction of risk weightage for housing loans up to Rs 75 lakh.
The RBI on Thursday evening cut risk weights on home loans given by banks (up to Rs 75 lakh) from 50 per cent to 35 per cent. RBI's move will free up more capital to lend as banks will have to set aside lower funds towards capital adequacy ratio for home loans up to Rs 75 lakh.
The additional capital will improve the Tier-1 (core capital) of most banks by 10-25 basis points, Nomura said. Tier-1 capital is the money that the bank has in its coffers to cover risks for activities like lending and trading.
Within capital-constrained public sector banks, the impact should be the highest for State Bank of India, Nomura added.
"The RBI's decision will give a fillip to PSU banking stocks, which have been under lot of pressure," said Ajay Bodke of Prabhudas Lilladher.
The weightage reduction currently applies only to banks, but analysts expect the National Housing Bank, which is the regulator for housing finance companies, to also adopt these. As a result, HFCs also rallied sharply.
LIC Housing Finance shares jumped over 3 per cent, while HDFC traded with nearly 1.5 per cent gains.
Analysts said lenders may look to pass on the benefits of risk weightage reduction to borrowers. Lenders can cut rates by up to 30 basis points without compromising return on equity, said CLSA.
As of 10.45 a.m., the Bank Nifty traded 1.3 per cent higher, outperforming the Nifty, which was up 1 per cent. Private lender ICICI Bank traded 3.12 per cent higher, while SBI traded with 1.6 per cent gains.